LIKE WEBLYF.COM ON FACEBOOK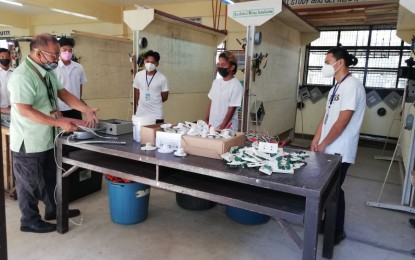 FACE-TO-FACE. Senior high school students of the Antique National School taking up Electrical Installation and Maintenance attend the first day of limited face-to-face classes on Monday (Dec. 6, 2021). A total of 88 Technical-Vocational Livelihood students are participating. (PNA photo by Annabel Consuelo J. Petinglay)
SAN JOSE DE BUENAVISTA, Antique – The biggest secondary school in the province of Antique started on Monday the limited face-to-face classes for senior high school taking up Technical-Vocational Livelihood (TVL).
Antique National School (ANS) principal, Roger Jomolo, said in an interview that 88 out of 500 senior high school students taking up TVL track such as bread and pastry, cookery, and Electrical Installation and Maintenance have returned to school.
"We have 88 students who have been vaccinated and who are now attending face-to-face classes," he said.
Eight teachers handling the classes are also fully inoculated against Covid-19.
Under the guidelines set by the Department of Health and the Department of Education (DepEd), the students will be spending four hours of face-to-face classes on weekdays.
The remaining learners who are taking up TVL track will attend modular classes as they wait to be included in the expansion.
Classes started with a flag-raising ceremony attended by DepEd Division Superintendent Felisa Beriong and San Jose de Buenavista Mayor Elmer Untaran.
Dr. Lily Marlyn Sajonia, Education Program Supervisor II for Quality Assurance from the DepEd regional office, said police personnel are deployed within school premises for security and to help implement social distancing and other health protocols.
"There is a vehicle on standby that could transport learners once they feel symptoms of Covid-19," she said.
The pilot face-to-face classes will be held until Jan. 31, 2022 and its success will be the basis of DepEd in planning for an expansion. (PNA)