LIKE WEBLYF.COM ON FACEBOOK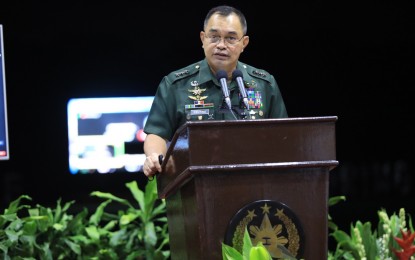 AFP chief, Lt. Gen. Andres Centino (File photo)
MANILA – Armed Forces of the Philippines (AFP) chief, Lt. Gen. Andres Centino, urged all military personnel to refrain from committing acts of violence on women and children.
This, as the military joins the observance of this year's 18-Day Campaign to End Violence Against Women (VAW) that runs from November 25 to December 12.
He also instructed all military personnel to adhere to Republic Act 9262 or the Anti-Violence Against Women and their Children, and the Republic Act No. 11313 or "Safe Space Act."
Centino, who is also the concurrent Philippine Army commander, also reiterated the military's initiatives in crafting and implementing gender-responsive policies and programs as it continuously pursues gender equality within the organization.
"Now more than ever, the strength and resiliency of the Filipina will shine through these trying times. The pandemic may have brought many industries to their knees, but no crises can break the spirit of a woman, whether it be your mother, your wife, your sister, or your daughter," he said in a statement Thursday night.
Last December 1, the PA, through its Office of the Army Gender and Development (OAGAD), held a virtual forum titled "Men Understanding Women".
The forum also featured Lt. Col. Apple Agpaoa, Technical Sgt. Cathlyn Capingian and Technical Sgt. Florizel Suico who talked about their inspiring journey to becoming empowered and resilient women.
Forum participants also wore orange shirts to support the "Orange Your Icon" anti-VAW advocacy while panelists tackled efforts to protect and empower women in various work settings. (PNA)