LIKE WEBLYF.COM ON FACEBOOK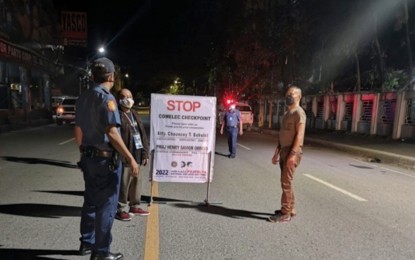 PNA file photo
MANILA – A total of 33 persons were arrested and 20 firearms and 56 other deadly weapons were seized in checkpoints in Metro Manila during Commission on Elections (Comelec) gun ban implementation, the National Capital Region Police Office (NCRPO) said on Sunday. 
A total of 1,215 operations were conducted from January 9 to 14, including checkpoints and other police operations geared to implement strict gun ban policies in Metro Manila.
NCRPO chief Maj. Gen. Vicente Danao Jr. vowed to intensify security operations and gun ban implementation to ensure the peaceful and orderly conduct of this year's polls. 
"The data reveals flagrant disregard of existing policies since we have clearly cascaded the implementation of gun ban long before we launched this operation. Yet, it is not yet too late for others to heed our call and refrain from committing violations of law especially as we approach the forthcoming national and local elections 2022," Danao said in a statement.
During the operations, 329 unvaccinated individuals were also accosted and warned for loitering around or going outside their homes despite health advisories and prohibition from the local government following the sudden surge of coronavirus disease 2019 (Covid-19) pandemic and its various variants.
"We cannot be lax in our fight. Not with criminality, terrorism and illegal drugs; nor with this deadly virus. I would like to reiterate my call for cooperation and unity from our people to help us put an end to this pandemic by heeding the call of the government to observe existing minimum health standards and please, especially to those who are unvaccinated, unless extremely necessary, stay home," Danao said.
The implementation of the nationwide gun ban commenced on Jan. 9, 2022 and will last until June 8 this year. (PNA)