LIKE WEBLYF.COM ON FACEBOOK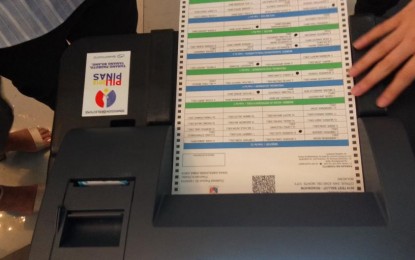 Vote counting machine (File photo)
MANILA – The Commission on Elections (Comelec) on Thursday conducted another "trusted build" for the vote counting machines (VCMs) and the consolidated canvassing system (CCS) in Manila.
Commissioner Marlon Casquejo, steering committee head of the 2022 elections, said the VCMs and CCS are two components of the automated election system (AES) for the May 9, 2022 national and local elections (NLE).
"This is the second trusted build of our two components that is CCS and VCMs. There are improvements or we have found some improvements that needs to be corrected when we conducted the files test as well as the mock polls last December," he said during the livestream of the event at the Diamond Hotel in Manila.
"As we have said earlier before when we conduct our trusted build in Huntsville, Alabama if there's a need to do the trusted build because of some issues which involves source code then we need to do another trusted build," he added.
Last month, the first trusted build of the AES, including the elections management system (EMS) was completed by international systems and software testing firm, Pro V&V in the United States.
"With regards to our EMS, there's no problems with our EMS which involves the configuration of our system. In our CCS there are some issues to be resolved which involve source code so that is why we need to do another trusted build as well as in our VCMs," Casquejo said.
Casquejo said Thursday's event lasted for four hours. The source codes were stored in flash drives and were sealed in envelopes to be escrowed at the Bangko Sentral ng Pilipinas.
The envelopes were temporarily stored at the main Comelec office in Intramuros, Manila.
The EMS compiles the number and profile of registered voters, their geographic locations, polling precinct information, among others, all of which are necessary in designing the official ballots.
The CCS does the automated tallying and monitoring of data received from polling precincts and lower levels of board of canvassers.
The "trusted build" is the process of assembling the overall program that will govern the entire AES using the reviewed components. (PNA)