LIKE WEBLYF.COM ON FACEBOOK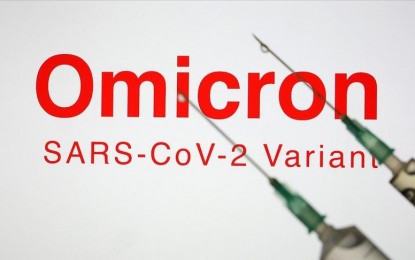 (Anadolu photo)
LEGAZPI CITY – The Bicol Regional Training and Teaching Hospital (BRTTH) in this city has expanded up to 250 its bed capacity as it braces for a possible surge in coronavirus disease 2019 (Covid-19) infections that could be triggered by the new variant Omicron.
"We are ready just in case the Covid-19 cases would again spike due to the discovery of Omicron variant that is more infectious than the previous ones," said Dr. Eric Raborar, BRTTH hospital chief, in an interview on Monday.
He also commended the efforts of several local government units to sustain their vaccination programs that apparently contributed to the drop in Covid-19 infections.
Raborar said BRTTH currently only has 26 admitted Covid-19 patients.
"There was a time during the surge of Covid-19 infections that BRTTH had admitted more than 200 cases that almost occupied the hospital's maximum bed capacity," he noted.
He thanked individuals and organizations that are continuously donating personal protective equipment (PPE) and other paraphernalia being used in the treatment of Covid-19 patients.
"A set of PPE is worth PHP5,000. And a health worker wears more than one set every time they attend to a Covid-19 infected patient. We thank those who are donating to us these suits. Otherwise, the government would be spending much for the treatment," Raborar said. (PNA)