LIKE WEBLYF.COM ON FACEBOOK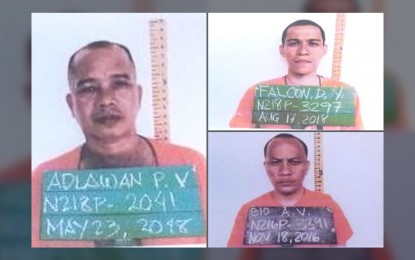 (Photo courtesy of BuCor)
MANILA – A manhunt operation is underway against three convicts who escaped from the New Bilibid Prison early Monday, prison officials said.
In a notice, the Bureau of Corrections (Bucor) said Arwin Villeza, 35; Drakilou Yosores, 35; and Pacifico Adlawan, 49 escaped at around 1 a.m. from the NBP Maximum Security Compound.
"The escapees are considered armed and dangerous. Coordination and recovery efforts are ongoing. The public is hereby enjoined to notify BuCor Authorities at hotline number: 0917-804-9362, 0918-600-1081, or the nearest police station near them," the BuCor said.
The details of the escapees are as follows:
Arwin Villeza Bio, 35 years old
Home address: Javier, Leyte
Crime: Murder, Attempted Murder
Regional Trial Court (RTC) Branch 257 Parañaque City - reclusion perpetua
Drakilou Yosores Falcon, 34 years old
Home address: Libasgua, San Miguel, Surigao Del Sur
Crime: Robbery with Homicide
RTC Br 27-Tandag City, Surigao Del Sur, with pending Double Murder Case at RTC Br 68, Camiling, Tarlac
Pacifico Villaruz Adlawan, 49 years old.
Home address: San Austin Norte, Tandag City, Surigao Del Sur
Crime: Frustrated Homicide, Violation of Section 15, Article 11 of Republic Act 9165 (Drug use).
Three BuCor personnel, Angelito Marquez, Mark Joseph Pesons and Jancy Dagonas and one inmate, Michael Dullavin, were rushed to the Ospital ng Muntinlupa for treatment after sustaining gunshot wounds as a result of the prison breach, initial report from the Muntinlupa police showed. (with report from Lloyd Caliwan/PNA)