LIKE WEBLYF.COM ON FACEBOOK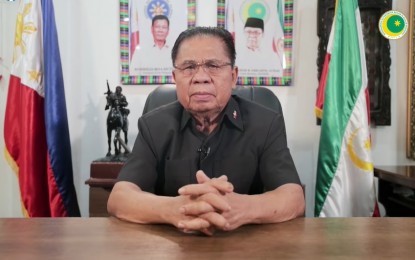 DESPICABLE ACT. Bangsamoro Autonomous Region in Muslim Mindanao Chief Minister Ahod "Murad" Ebrahim condemns on Tuesday (Dec. 7, 2021) the murder of a Basilan town mayor and the wounding of another town executive in Zamboanga City a day before. Both mayors were to attend the League of Municipalities of the Philippines meeting in Davao when they were attacked around 8:30 a.m. Monday at a seaside area in Barangay Baliwasan of the city. (Screengrab courtesy of Bureau of Information – BARMM)
DAVAO CITY/COTABATO CITY – Government officials in Mindanao, including Mayor Sara Z. Duterte and those from the Bangsamoro Autonomous Region in Muslim Mindanao, on Tuesday condemned the killing of Al-Barka Mayor Darussalam Saguindilan Lajid as they seek speedy justice for the attack.
Lajid, together with Akbar town Mayor Alih Sali, and Sali's cousin and driver Barad Nuruddin were on their way to the League of Municipalities of the Philippines meeting in Davao when they were attacked around 8:30 a.m. Monday at a seaside area in Barangay Baliwasan, Zamboanga City.
Lajid and Nuruddin were rushed to the hospital but were declared dead on arrival by the attending physician while Sali is now recuperating in the hospital.
"May the perpetrators behind this appalling attack be immediately brought to justice. This cowardly act deserves our collective outrage and condemnation," Mayor Sara said in a statement.
She added that Darussalam is a member of Lakas-CMD (Christian Muslim Democrats) Party and a personal friend.
"His untimely demise is truly tragic and heartbreaking. With the officers and members of Lakas-CMD, my thoughts, and prayers for Mayor Darussalam and his aide as we offer their families our deepest condolences," Mayor Sara said, adding that they also wish for the speedy recovery of Mayor Sali, a member of the local United Bangsamoro Party who is also a member of the Lakas-CMD in Basilan.
Call for sobriety
In a separate statement, BARMM Chief Minister Ahod Murad Ebrahim Minister Ebrahim also urged the police to identify, arrest and put behind bars the brains behind the attack.
"The Bangsamoro government condemns the cowardly and brutal attack on the municipal mayors of Al Barka and Akbar," Ebrahim said.
"Not only is this an attack against the people of Basilan, but an attack on the democratic principles and values of the entire Bangsamoro people," he added.
The two mayors belonged to the United Bangsamoro Justice Party (UBJP), the political party of the Moro Islamic Liberation Front (MILF).
"In this difficult and emotional time, we call for sobriety and patience. Let us exercise restraint while the investigation is ongoing. These perpetrators shall answer to justice," Ebrahim said.
BARMM interior minister Naguib Sinarimbo, in another statement, also condemned the treacherous attack carried out against the two Basilan mayors.
"I was in touch with their families and words are not enough to express our sorrow and sympathy to the families of the victims," he said.
Sinarimbo has also called on the Philippine National Police and all law enforcement agencies of the government to immediately conduct a thorough investigation to unmask the people behind the despicable act and to ensure that justice will be served.
"We express our sympathy to the families of the victims," he said.
Lajid and other victims were walking towards their parked vehicles when repeatedly shot with .45 caliber pistols by four gunmen aboard two motorcycles.
The perpetrators, who remain unidentified, sped off after the incident. The remains of Lajid and Nuruddin were immediately shipped by their relatives to Basilan province aboard a speedboat for interment in accordance with Islamic burial rites. (PNA)