LIKE WEBLYF.COM ON FACEBOOK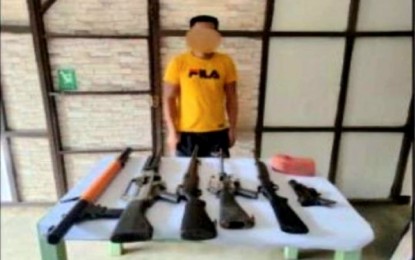 SQUAD LEADER. Cayetano Santos Jr., alias Juning, a squad leader of the New People's Army, and the firearms that he yielded to troops of the 10th Infantry Division (10ID) and police officers. He was captured in Barangay Simulao, Boston, Davao Oriental on May 12, 2022. (Photo courtesy of 701st Infantry Brigade)
DAVAO CITY – The Army's 10th Infantry Division (10ID) reported on Saturday the capture of a New People's Army (NPA) squad leader who also yielded six firearms in Barangay Simulao, Boston, Davao Oriental.
Troops of the 10ID and police officers conducting a joint intelligence operation arrested on May 12 Cayetano Santos Jr., alias Juning, a squad leader under the NPA's Regional Operations Command and Regional Headquarters.
He also yielded a Carbine rifle, M1 Garand rifle, USAS-12 shotgun, RPG-2 grenade launcher, KG-9 sub-machine gun, M16 rifle, and one anti-personnel mine.
Maj. Gen. Nolasco Mempin, 10ID commander, said Santos, who is unable to walk long distances due to a bad knee, "left the armed group in 2018 but did not surrender to the government forces."
Mempin commended the troops for their successful conduct of the joint intelligence operation that led to the NPA fighter's arrest.
"To those NPA members who went on lie-low and didn't surrender, you cannot forever stay in your hideout. Surrender now while you still have a chance. Don't wait for the government forces to catch you," he added.
The Communist Party of the Philippines (CPP) - NPA is listed as a terrorist organization by the United States, the European Union, the United Kingdom, Australia, Canada, New Zealand, and the Philippines.
The Anti-Terrorism Council has also formally designated the National Democratic Front as a terrorist organization on June 23, 2021, citing it as "an integral and inseparable part" of the CPP-NPA that was created in April 1973. (PNA)