LIKE WEBLYF.COM ON FACEBOOK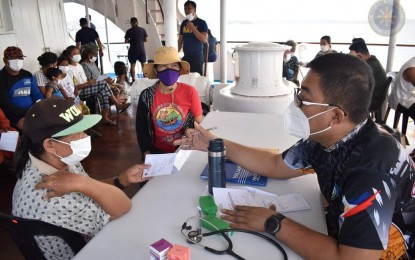 (Photo courtesy of BRP Ang Pangulo Facebook page)
MANILA – The BRP Ang Pangulo (ACS-25), the presidential yacht converted into a floating hospital following the onslaught of Typhoon Odette last month, has provided medical aid to 820 residents of two barangays in the Dinagat Islands during its mission in the area from January 14 to 15.
"After serving Siargao for the past week, the floating hospital returns to Dinagat Islands to continue delivering medical services and humanitarian assistance to the people of the province. This time, the Presidential Ship anchored off the coasts of Barangays Cab-ilan and Gomez in the Municipality of Dinagat. A total of 368 and 452 patients, respectively, were served the past two days," the BRP Ang Pangulo said in its Facebook post on Sunday night.
The same post added that the 820 patients served for both barangays are the highest since BRP Ang Pangulo started its humanitarian mission last December.
"To date, a total of 1,614 residents from Siargao and Dinagat Islands have been attended to by the hospital ship," the ship said.
The BRP Ang Pangulo is part of the 27-ship flotilla deployed by the Navy to help communities battered by "Odette".
The ship left Manila on December 19, carrying thousands of relief goods and other essential items intended for the affected population in Mindanao.
Commander Benjo Negranza, Philippine Navy spokesperson, earlier said they use their resources to assist disaster-stricken areas to ensure the timely delivery of relief goods to typhoon victims. (PNA)