LIKE WEBLYF.COM ON FACEBOOK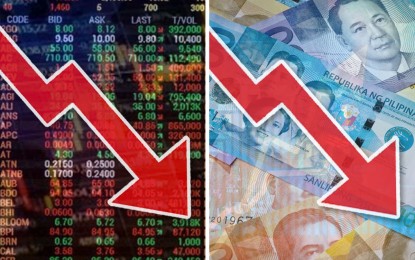 ELEVATED US INFLATION. The Philippine Stock Exchange index (PSEi) declines anew on Thursday (May 12, 2022) despite the higher-than-expected growth of the domestic economy in the first quarter of the year at 8.3 percent. The peso followed after the heating US inflation continues to worry investors. (PNA file photo)
MANILA – Positive first-quarter economic growth failed to counter investors' worries on the elevated inflation in the United States, pulling further down the local stock barometer which the peso mirrored.
The Philippine Stock Exchange index (PSEi) lost 1.56 percent, or 103.56 points, to 6,532.30 points.
All Shares followed with a drop of 1.15 percent, or 40.76 points, to 3,517.21 points.
All the sectoral gauges also finished the day in the negative territory, led by Property after it slipped by 2.75 percent.

It was trailed by Financials, 2.28 percent; Industrial, 1.36 percent; Services, 1.01 percent; Holding Firms, 0.33 percent; and Mining and Oil, 0.24 percent.
Volume totaled 1.59 billion shares amounting to PHP7.42 billion.
Decliners led advancers at 128 to 70, while 48 shares were unchanged.
"Philippine shares plunged despite the better-than-expected GDP (gross domestic product), as sentiment was dragged by hotter-than-expected US inflation data," said Luis Limlingan, Regina Capital Development Corporation (RCDC) head of sales.
The Philippine Statistics Authority (PSA) reported the domestic economy's 8.3-percent growth in the first three months this year, higher than previous quarter's upwardly revised 7.8 percent and a reversal from year-ago's -3.8 percent.
Meanwhile, April 2022 consumer price index (CPI) in the US stood at 8.3 percent, slower than the previous month's 8.5 percent but still among the four-decade high level.
"Analysts are mixed on whether the data suggests inflation has hit a peak," Limlingan said.
Meanwhile, the local currency finished the day at 52.495 from the previous session's 52.32, reversing gains in the past days.
It opened the day sideways at 52.28 from Wednesday's 52.32.
It traded between 52.495 and 52.28, bringing the day's average to 52.386.
Volume reached USD1.08 billion, up from USD898.9 million a day ago. (PNA)