LIKE WEBLYF.COM ON FACEBOOK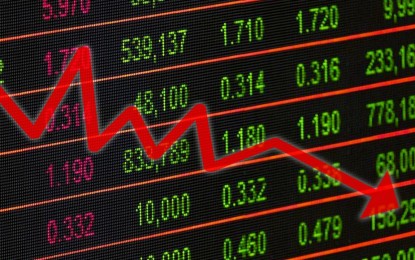 MANILA – The Philippine Stock Exchange index (PSEi) slipped by 0.38 percent during Friday's trading, while the peso was at its weakest since March 2019.
The PSEi ended this week's trading at 6,686.83, declining by 25.38 points.
All shares also went down by 0.22 percent or 7.99 points to 3,581.91.
Two sectors likewise registered decrements during this day's trading – Financials was down by 1.92 percent or 31.39 points to 1,602.19, and Industrial, by 0.81 percent or 74.25 points to 9,139.53.
Other counters ended in the green led by Mining and Oil, whose shares improved by 1.28 percent or 154.61 points to 12,188.47. It was followed by Services, up by 0.54 percent or 9.94 points to 1,860.49; Holding Firms, up by 0.16 percent or 10.27 points to 6,264.03; and Property, up by 0.11 percent or 3.45 points to 3,059.11.
The volume of trade reached more than 852 million shares with a total value of PHP5.06 billion.
Decliners outnumbered gainers at 100 to 73, leaving 53 listed firms with shares unchanged.
Meanwhile, the Philippine peso further weakened on Friday as it closed at 52.86 to the US dollar.
It shed PHP0.06 from Thursday's closing of PHP52.80 to the dollar.
The currency pair opened the day's trading at PHP52.82, weaker than the previous day's kick-off at 52.47.
Peso-dollar trading even reached 52.92 and 52.70, bringing the average trading for the day to 52.82.
Total volume climbed to USD1.13 billion on Friday from the previous day's USD1.1 billion.
The local currency was at its weakest since March 2019 when it was at 52.96 to the dollar.
Analysts also forecast that the peso and US dollar trade is heading toward the 53-level this year.
It was in December 2018 when the peso last touched the 53-level. (PNA)