LIKE WEBLYF.COM ON FACEBOOK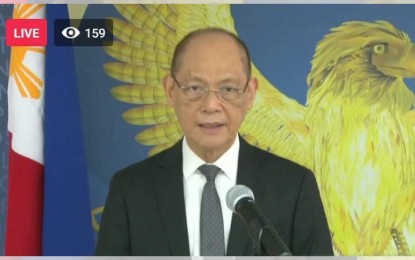 BSP Governor Benjamin Diokno
MANILA – Philippine banks' strong corporate governance and effective management of lending operations allowed the sector to weather the impact of the current pandemic.
In a virtual briefing on Thursday, Bangko Sentral ng Pilipinas (BSP) Governor Benjamin Diokno said the domestic financial institutions (FIs) remain stable since assets, loans, and deposits remain on expansion mode amidst the challenges since last year. 
Citing BSP data, Diokno said the banking sector's total assets rose by 7 percent year-on-year to PHP20.4 trillion as of end-November 2021. 
This was mainly driven by deposits, which grew by 9.2 percent year-on-year to PHP15.8 trillion and accounts for around 77.7 percent of the sector's assets.
Banks also continue to have sufficient capital and liquidity buffers, Diokno said.
As of end-September 2021, the sector's capital adequacy ratio (CAR), which is a gauge of FIs' financial health, stood at 16.9 percent for universal and commercial banks (U/KBs) on solo basis and 17.4 percent for consolidated basis. 
These are both higher than the 10 percent minimum requirement by the BSP and 8 percent by the Bank for International Settlements (BIS). 
Liquidity buffers also remain above the 100 percent threshold at 197.5 percent for solo liquidity coverage ratio for U/KBs as of end-October 2021. 
Smaller banks also posted liquidity buffers that are higher than the minimum level of 20 percent, Diokno said. 
"The strong liquidity position of banks enabled them to continue extending credit support to the country's economy," he said.
Lending activity, which hit a snag since late 2020 after banks took a more cautious stance against the pandemic's impact on borrowers' capacity to pay, has started to recover. 
Diokno said loans remain to have the majority share of the banks' total assets. 
He said the sector's gross total loan portfolio (TLP) rose by 4.3 percent to PHP11.1 trillion as of November 2021. 
For one, loans extended to the micro, small and medium enterprises (MSMEs) rose to around PHP244.4 billion as of Dec. 23, 2021, way higher than the PHP8.7 billion in April 2020.
"Banks currently remain cautious but project positive business outlook in the next two years," Diokno said.
He said "the favorable outlook, rising vaccination coverage in the country, and the BSP credit-related reliefs are expected to further boost market confidence and encourage banks to sustain financing to households and critical sectors of the economy." 
Meanwhile, Diokno said the non-performing loan (NPL) ratio of the banking system declined to 4.3 percent as of end-November last year from 4.4 percent in the previous month after banks' increased provisioning.
He said they project banks' NPL ratio to be between 5-6 percent for December 2021 and to remain in single digit in the coming years. 
"The strong initial financial position and sound governance of banks have enabled them to weather this crisis and manage their NPLs. Long before the Covid-19 pandemic, banks have already embedded a strong corporate governance and effective risk management in their lending operations," he added. (PNA)