LIKE WEBLYF.COM ON FACEBOOK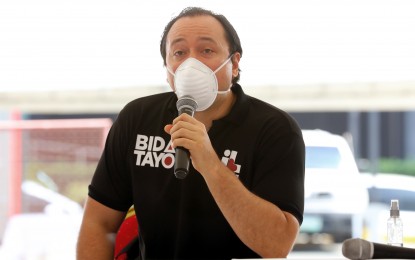 Taguig City Mayor Lino Cayetano (File photo)
MANILA – Taguig City Mayor Lino Cayetano on Monday said he will continue to work while in isolation after testing positive for coronavirus disease 2019 (Covid-19).
In a virtual meeting with the city's top officials, Cayetano said his antigen test yielded a positive result and he is currently exhibiting mild symptoms.
Cayetano, meanwhile, directed city officials to ensure efficient delivery of services and ensure strict enforcement of health protocols.
"Our focus during this period will be taking care of our citizens by capacitating them with a deeper understanding of the virus and how to manage cases including access to all our services like testing, telemedicine, delivery of medicine and vaccination," he said.
Cayetano added that the city government will continue to lead the transition to the new normal.
"Moving from pandemic to endemic, making the virus endemic, getting used to living with it is up to us, on how fast we act and adjust. Government must lead in this transition," Cayetano said.
He also asked City Administrator Lyle Pasco to audit and check the progress on the Taguig 2025 plan which focuses on the city's full transition into a highly sustainable city making it more resilient to pandemics and other pressing problems of the future.
This includes proper resource management and food security, climate change and disaster mitigation, economic development and affordable housing, accessible healthcare and advanced medical technology,citizen-centered approach to governance and digitization of government services, bridging education and employment through technology and education, and building an accessible and convenient mass transportation system. (PNA)