LIKE WEBLYF.COM ON FACEBOOK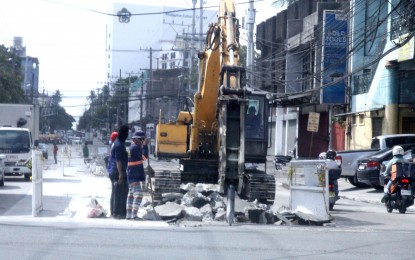 REPAIRS. The Department of Public Works and Highways uses a hydraulic excavator to dig up a road in Quezon City on Friday (May 13, 2022). The agency said road works are scheduled in the cities of Mandaluyong, Quezon, Caloocan and, Pasig from Friday 11 p.m. until Monday (May 16) at 5 a.m. (PNA photo by Rico H. Borja)
MANILA – The Department of Public Works and Highways (DPWH) will conduct road works along major thoroughfares in the cities of Mandaluyong, Quezon, Caloocan, and Pasig over the weekend.
In a traffic advisory on Friday, the Metropolitan Manila Development Authority (MMDA) said works will begin on Friday at 11 p.m. and advised motorists to take alternate routes.
"The affected roads will be fully passable by 5 a.m. on Monday, May 16," the MMDA said.
The affected roads are:
- Edsa-Shaw Boulevard, Mandaluyong City northbound (NB) - innermost lane (busway) from Edsa-Shaw Boulevard (near Metro Rail Transit Shaw Station) going to Doña Julia Vargas Avenue (near SM Megamall-Building D);
- Edsa, Quezon City NB/southbound (SB) - after New York Street, Kamuning, first lane from sidewalk and after Aurora Boulevard to Arayat Street, second lane from the sidewalk;
- C-5 Road NB (4th lane) - before McKinley Road, Makati City;
- Edsa SB, Caloocan City - before Urbano Plata Street (second lane from sidewalk);
- Mindanao Avenue NB, Quezon City - from Phoenix Gas station to after Road 20 (second lane/truck lane);
- Agham Road after Quezon Avenue (second lane from the center island);
- Edsa SB, Quezon City - service road third lane along South Avenue intersection and second lane from sidewalk corner South Avenue to Kamuning Road;
- C.P. Garcia Avenue, Quezon City - fronting University of the Philippines-Ayala TBI (first and second blocks from sidewalk);
- C-5 Road, Pasig City - along Pasig Boulevard SB in front of St. Ignatius de Loyola Health Care Services and near Sitel building;
- Times Street corner West Avenue, Quezon City, fronting Kowloon House;
- Tandang Sora Avenue - Visayas Avenue (PNA)